Since the 2020 pandemic, we've seen many relative leaders come and go. I've found the most difficult part of trading/investing these past few years to be trusting the relative strength we see. Rotation is normal as we move through various economic cycles, but trying to zero in on which economic cycle we're actually in hasn't been easy. As a perfect example, look at Q3 GDP, which was just released last week. The first estimate of Q3 GDP was 4.9%, the highest quarterly GDP reading since late 2021. One major fear with regard to U.S. equities is that we were setting up for a "hard landing", or a recession, due to the very hawkish Fed and an expected decline in consumer spending. But with inflation dropping sharply over the past year and GDP accelerating instead of declining, I believe it's difficult at the moment to argue a hard landing. The U.S. consumer is very resilient, despite the series of rate hikes from the Fed. All of this may change the Fed's anticipation of rate cuts in 2024 altogether. If you recall from their latest meeting, they announced only 2 expected rate cuts in 2024, down the previous 4. But now, with the consumer showing resiliency and GDP rising, the Fed will have less reason to cut rates. Let's also keep in mind that inflation continues dropping and remains on a path headed towards the Fed's 2% target. So the Fed could remain on pause, with the path to a soft landing becoming clearer and clearer.
Where does all of this leave us?
Well, a Fed pause in hiking rates combined with falling inflation and rising GDP, could be a catalyst to much higher U.S. equity prices in the weeks and months ahead. That's speculation, however, and we must see the technical conditions of our key indices change for the better. While the soft landing proponents may grow in confidence after last week's GDP, that same confidence has yet to appear in the charts. Here's the S&P 500's daily chart for the past year: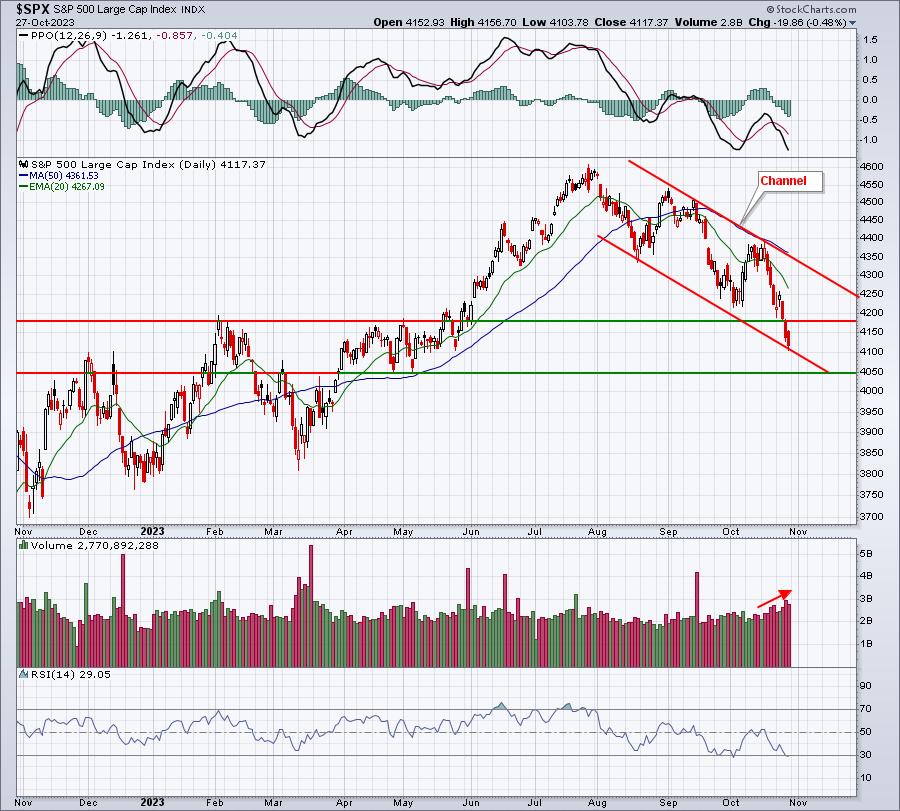 Volume has been accelerating to accompany a steep drop in price. Listen, nothing is bigger to me than the combination of price and volume. And it couldn't be any clearer to me that short-term technical conditions are extremely bearish right now. BUT, I have several secondary signals that tell me to look for a bottom, which could be rapidly approaching. A capitulatory-type move could mark a major bottom, especially with the Volatility Index ($VIX) breaking above 20 and stubbornly remaining there. It's never easy to predict where an ultimate top on the VIX might occur, but what IS clear is bottoms do occur when the VIX tops. That's why I believe capitulation will likely be needed to mark that VIX top and S&P 500 bottom. The fact that we're now at the bottom of the S&P 500's current channel says that a market bottom could happen ANY day. I'm awaiting a big intraday reversal on heavy volume where a hammer, doji, bullish engulfing, or piercing candle appears. Until then, it's difficult to risk capital on the long side. Also, a reversing candle then provides a level to keep a stop in place to help manage risk. A reversing candle should not be breached intraday, but especially on a closing basis.
I like to look ahead at upcoming earnings, searching for companies that might be overlooked as they approach their quarterly earnings dates. There will be one very interesting earnings report out this week in the consumer discretionary area. The strong GDP was, in large part, due to a strong consumer. I wouldn't be surprised if there's a HUGE earnings surprise in this discretionary stock and, quite possibly, a very bullish gap higher. I'm featuring this stock in our FREE EB Digest newsletter on Monday morning. If you'd like to receive it, simply SIGN UP here and enter your name and email address. There's no cost and no credit card required.
Happy trading!
Tom