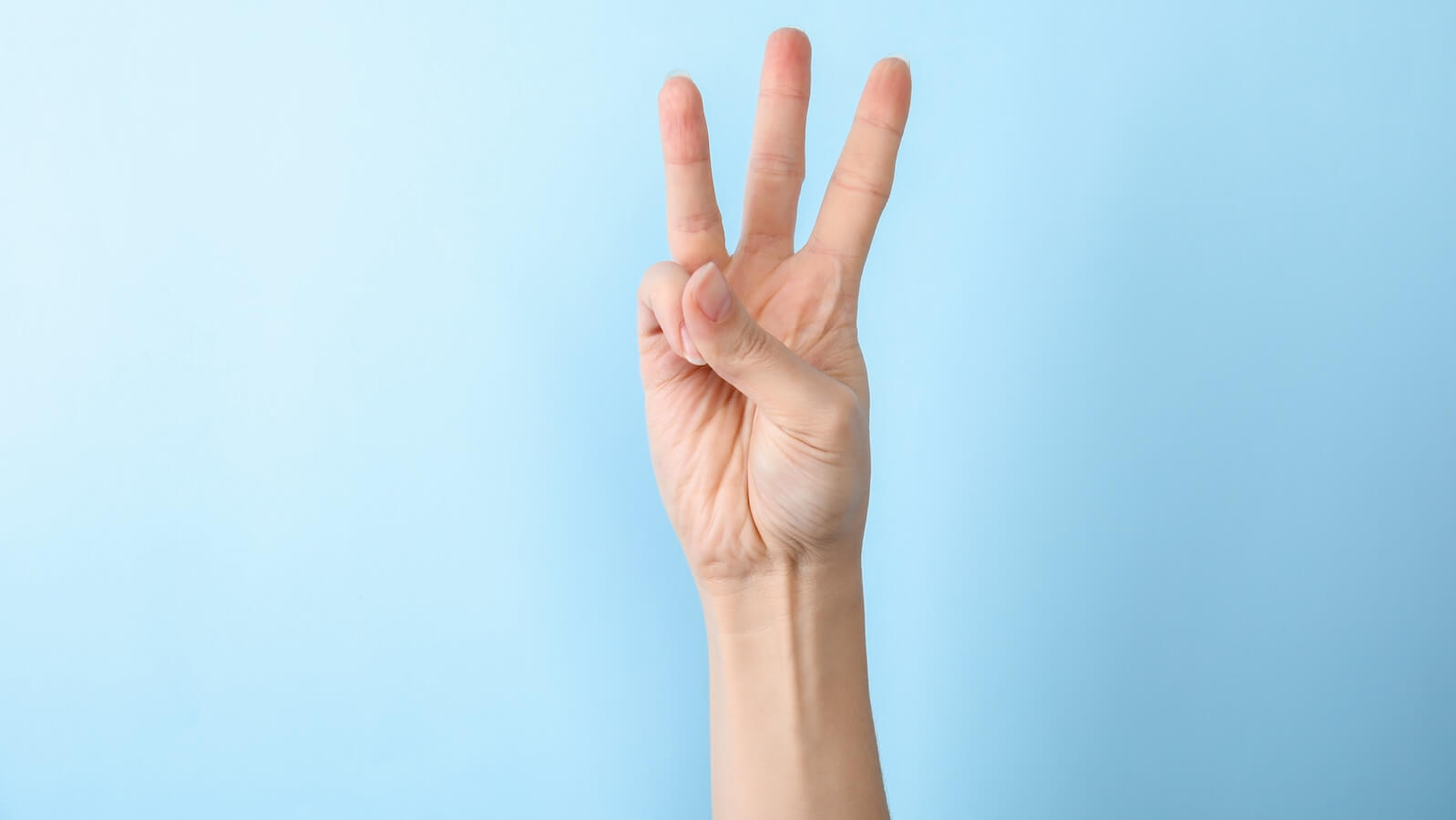 When the stock market turns to the downside, it's discouraging. But not all stocks go down with the market. Running daily scans can help you identify some gems. Here are three stocks that have hit all-time highs in a market struggling to decide which way to go. 
But just because a stock reaches an all-time high doesn't mean you should blindly buy it or think that since the stock has reached a high, it has no room to go further. You still need to have a strategic plan in place.
Why Invest In Stocks That Reach All-Time Highs? 
Before diving into the three stocks, it's necessary to understand the benefits of capitalizing on stocks at all-time highs and the risks.  
Legendary trader Jesse Livermore liked to find stocks at all-time highs because he thought there was a reason these stocks had gone high. There was enough buying interest to push the price higher. But will that momentum continue? That's where the challenge lies. 
Stocks that have reached all-time highs may experience a period of consolidation or even a price decline. And if the overall market trend is down, price can change quickly. So, if you decide to open a long position, you must have tight stops in place, just in case the momentum dwindles. 
---
How do you find stocks hitting all-time highs?
The simplest way is to use the Sample Scan Library in StockCharts.com. Here's how to find it:
Select the Charts & Tools tab.
Scroll down to Member Tools.
In the Sample Scan Library select Browse Scan Library.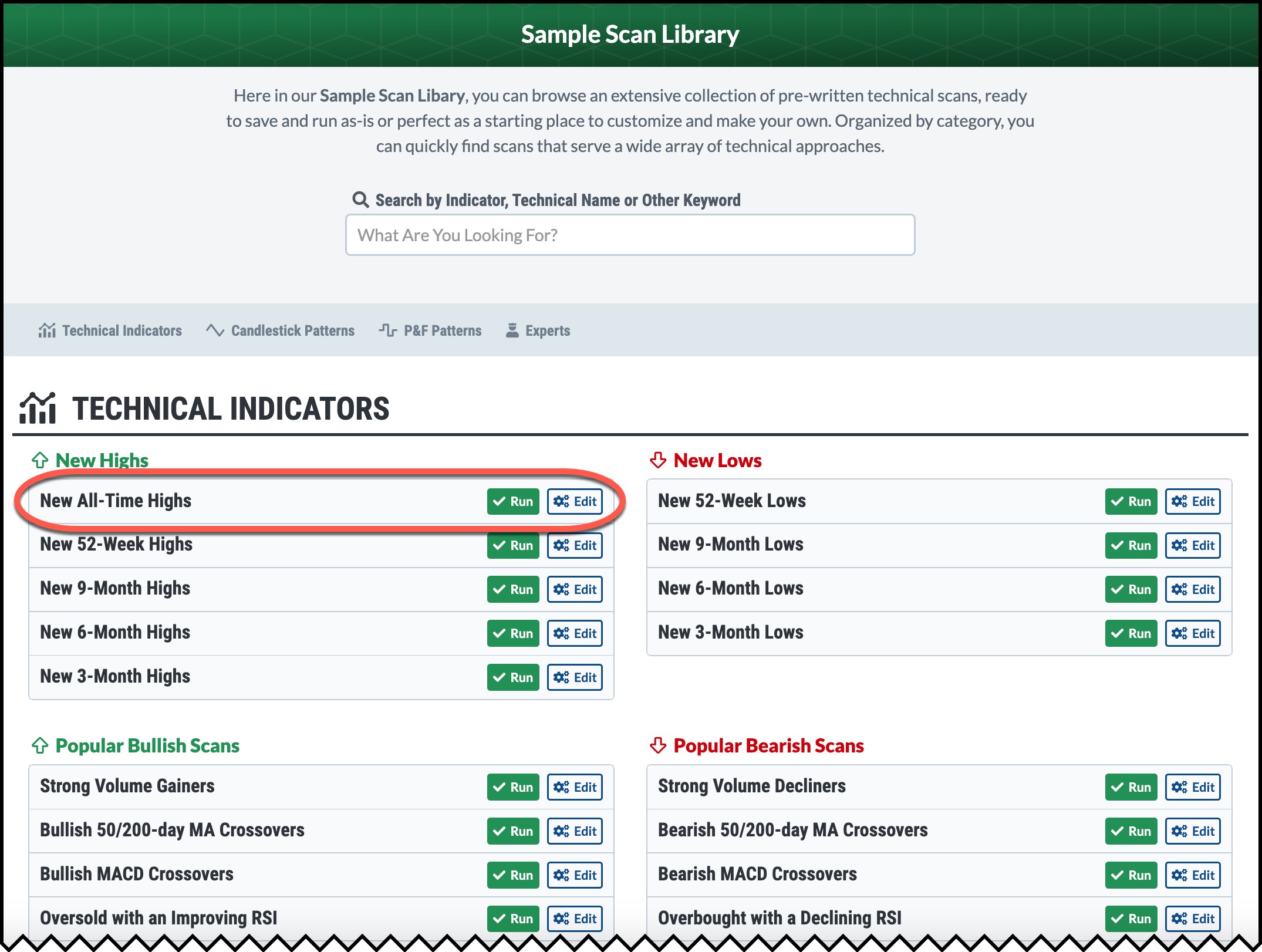 The first scan on the list is the New All-Time Highs. Select the Run button and you'll get a list of all stocks and ETFs that meet the scan criteria.
---
Let's dive into the three stocks that showed up on a scan of stocks that reached their all-time highs on October 18 and how they performed after hitting the high.
Diamondback Energy (FANG)
If you pull up a longer-term weekly chart of FANG—not to be confused with FAANG stocks—you'll see that the stock has been in an uptrend since 2020, although it went through a consolidation phase from the end of 2022, when the stock's price action went through a relatively shallow symmetrical triangle pattern. The stock broke out above the triangle pattern at the end of July. However, the breakout wasn't accompanied by a significant volume spike. There were some days with volume spikes after the breakout. Regardless, the stock has been trending higher along the support of its 21-day exponential moving average (EMA). For a couple of weeks (September 20 to October 6), FANG fell below the 21-day EMA (blue line) and its 50-day simple moving average (SMA) displayed by the red line. But FANG recovered and is not trading well above its 21-day EMA.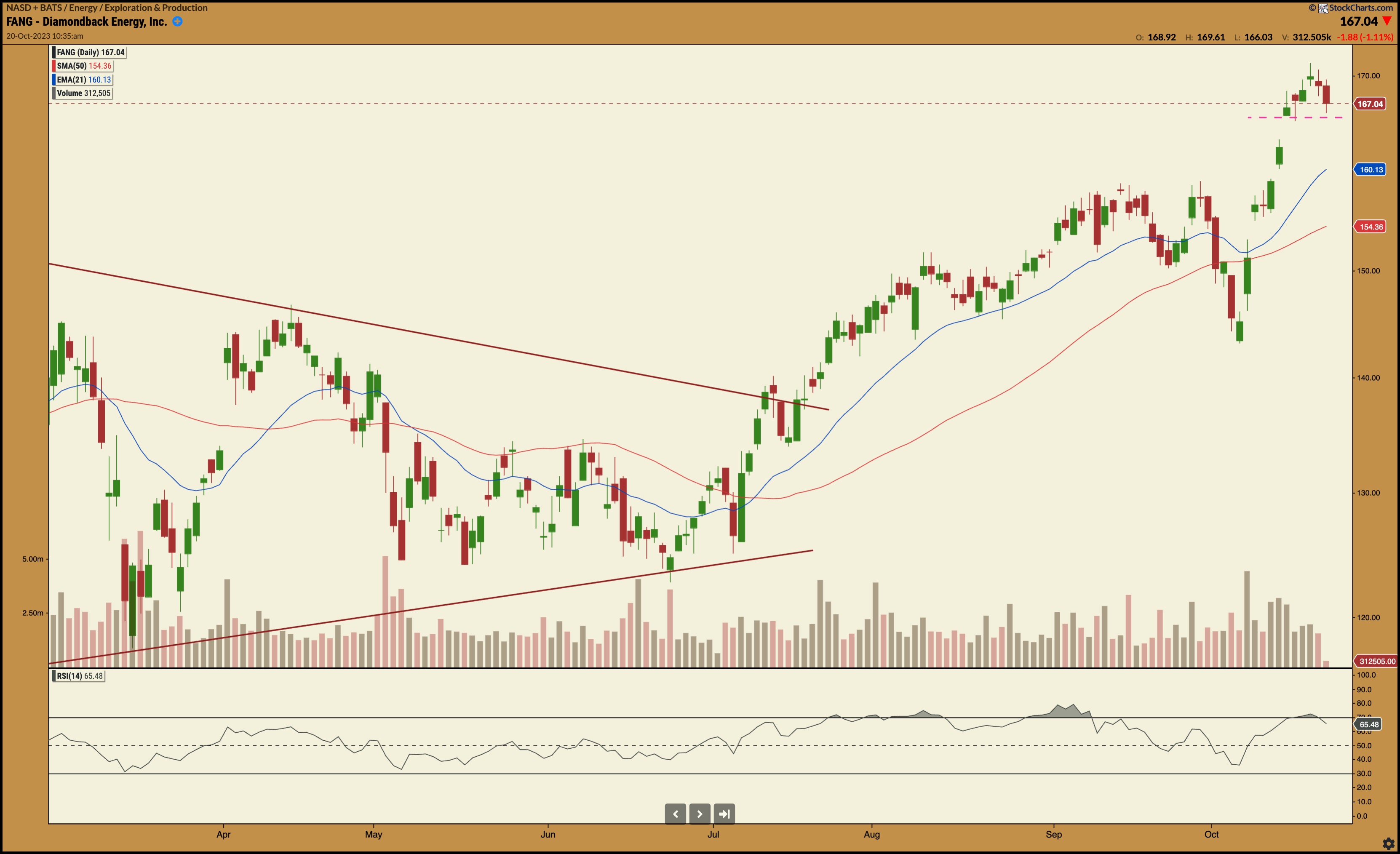 CHART 1: FANG STOCK IS PULLING BACK. Look for price action at the first support level (pink dashed line). It could go lower toward its 21-day EMA (blue line). Keep an eye on the RSI (lower panel) for an increase in momentum during up moves. Chart source: StockChartsACP. For educational purposes.
The stock hit its all-time high on October 12 and continues to rise. Keep an eye on the relative strength index (RSI), which indicates momentum. If the stock reverses and trends higher with a rising RSI, expect FANG to move higher.
Progressive Corp. (PGR)
Who doesn't know Flo? Progressive's ubiquitous upbeat commercials have etched the company's name in our brains. Perhaps the commercials are paying off. Progressive's stock has been trending higher for years, with higher highs and higher lows. 
Looking at the weekly chart of PGR (see below), it's clear the stock went through some pullbacks during the uptrend. In April 2020, PGR stock went below its 100-week SMA (green line) but recovered. More recently, in April 2023, there was another pullback to its 100-week SMA, which looks like a textbook classic. PGR bounced off the 100-week SMA by mid-July and has been trending higher.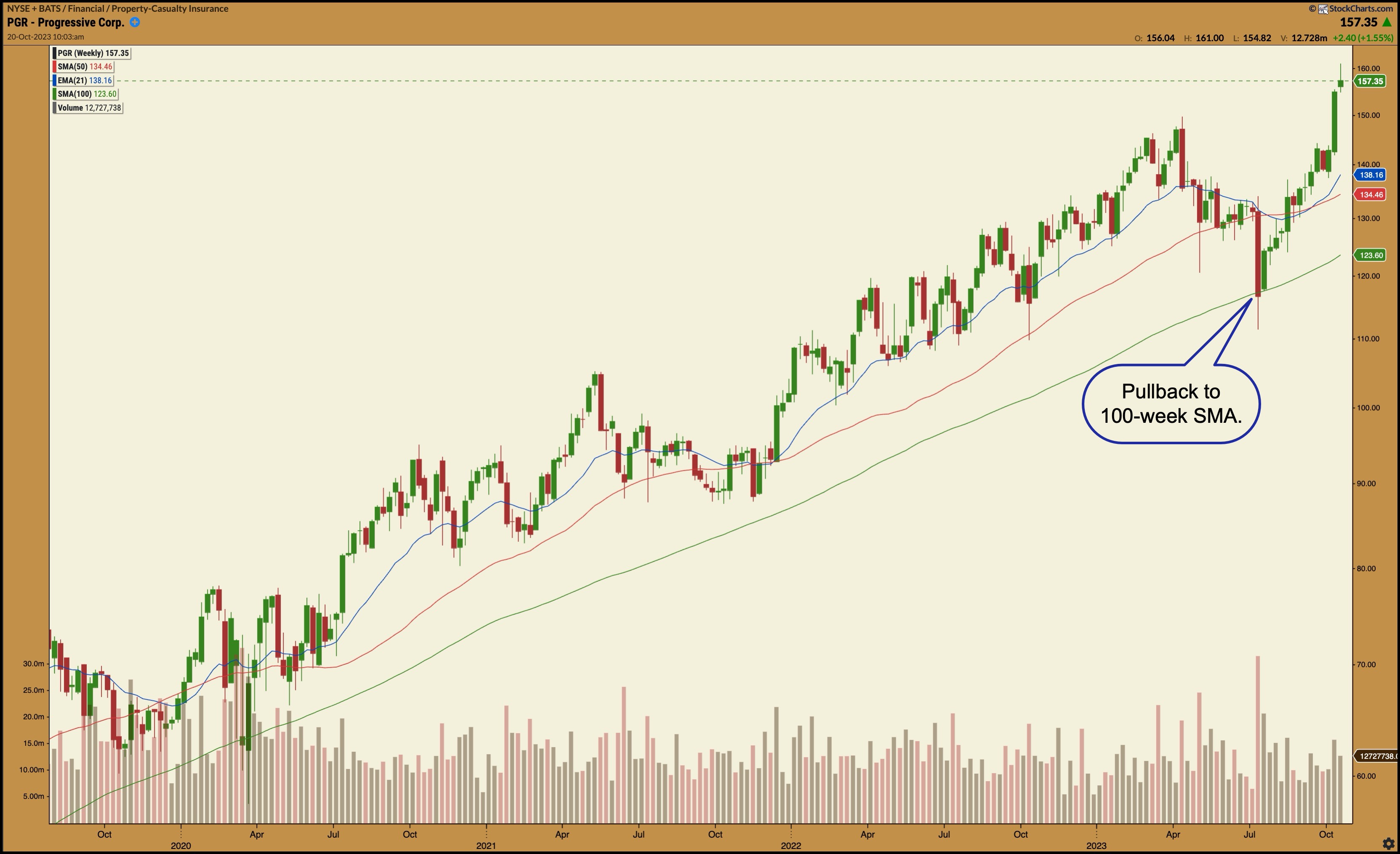 CHART 2: WEEKLY CHART OF PROGRESSIVE INSURANCE (PGR). Overall, the stock has been in an uptrend with a few pullbacks. The stock is now trending well above its 21-week EMA. Chart source: StockChartsACP. For educational purposes.
The daily chart gives a more granular view. You can see that recently, the stock price gapped up and hit a new all-time high. It's now pulling back on low volume, indicating that the selling pressure isn't dominant.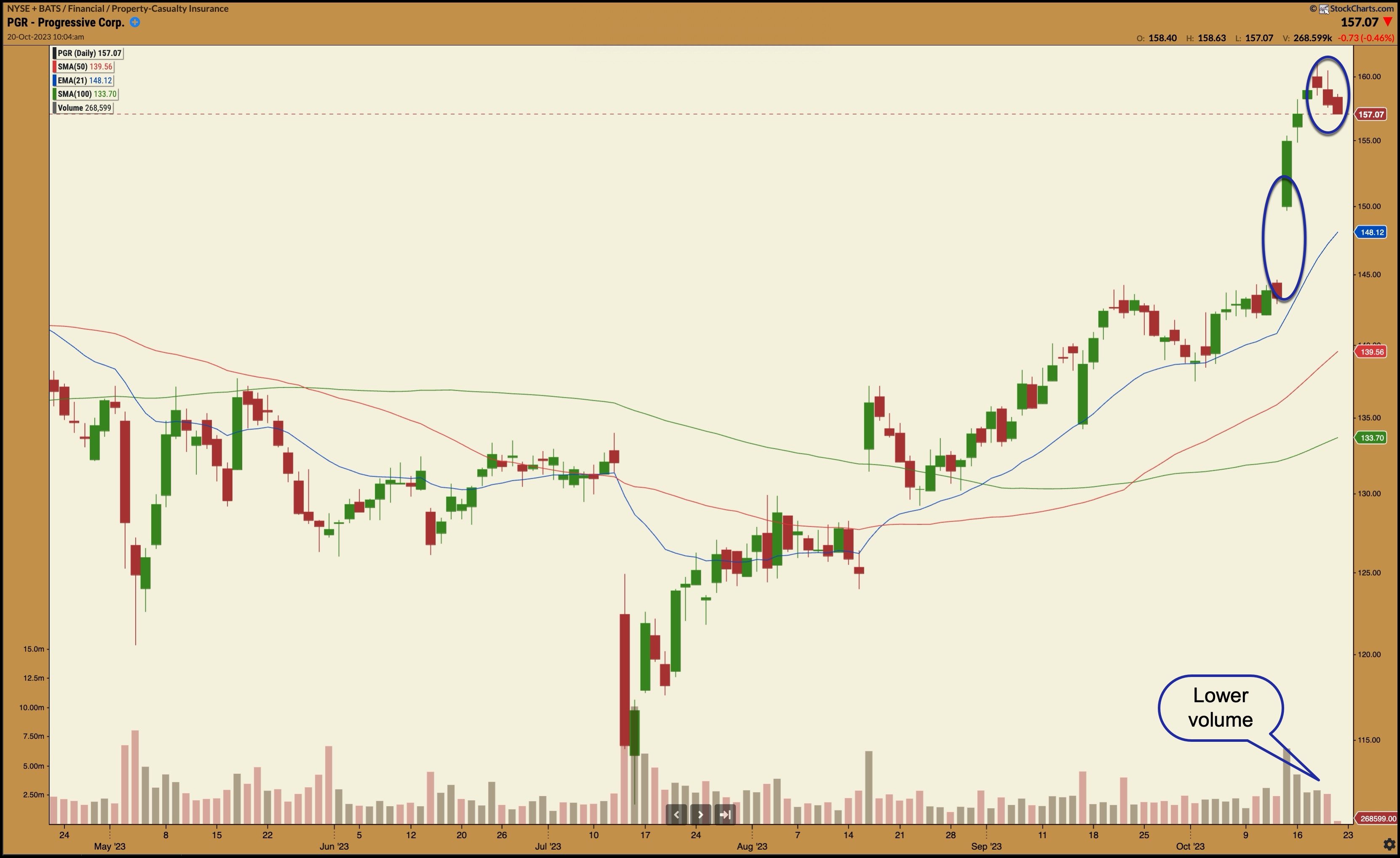 CHART 3: DAILY CHART OF PGR. The stock is pulling back on lower volume. Keep an eye out for a reversal and increase in volume. Chart source: StockChartsACP. For educational purposes.
Murphy USA, Inc. (MUSA)
Next time you shop for motor fuel at your local Walmart, you will find Murphy USA products on the shelves. It's not exactly the sexy company that makes it to mainstream media headlines, but the stock acts like one that deserves much more attention than it gets. As a side note, MUSA was mentioned in StockCharts TV. Our chief market strategist, David Keller, CMT, focused on the stock in a recent episode of The Final Bar. It made it to the top 10 stocks to watch in October.
MUSA has had its share of pullbacks but has recovered from them. The daily stock chart of MUSA below shows that the stock pulled back in March but recovered. There were some bumps along the way, especially the price action on August 3, when the stock went as low as its 100-day SMA and bounced back. The stock is trading well above its 21-day EMA and continues to rise, making new all-time highs.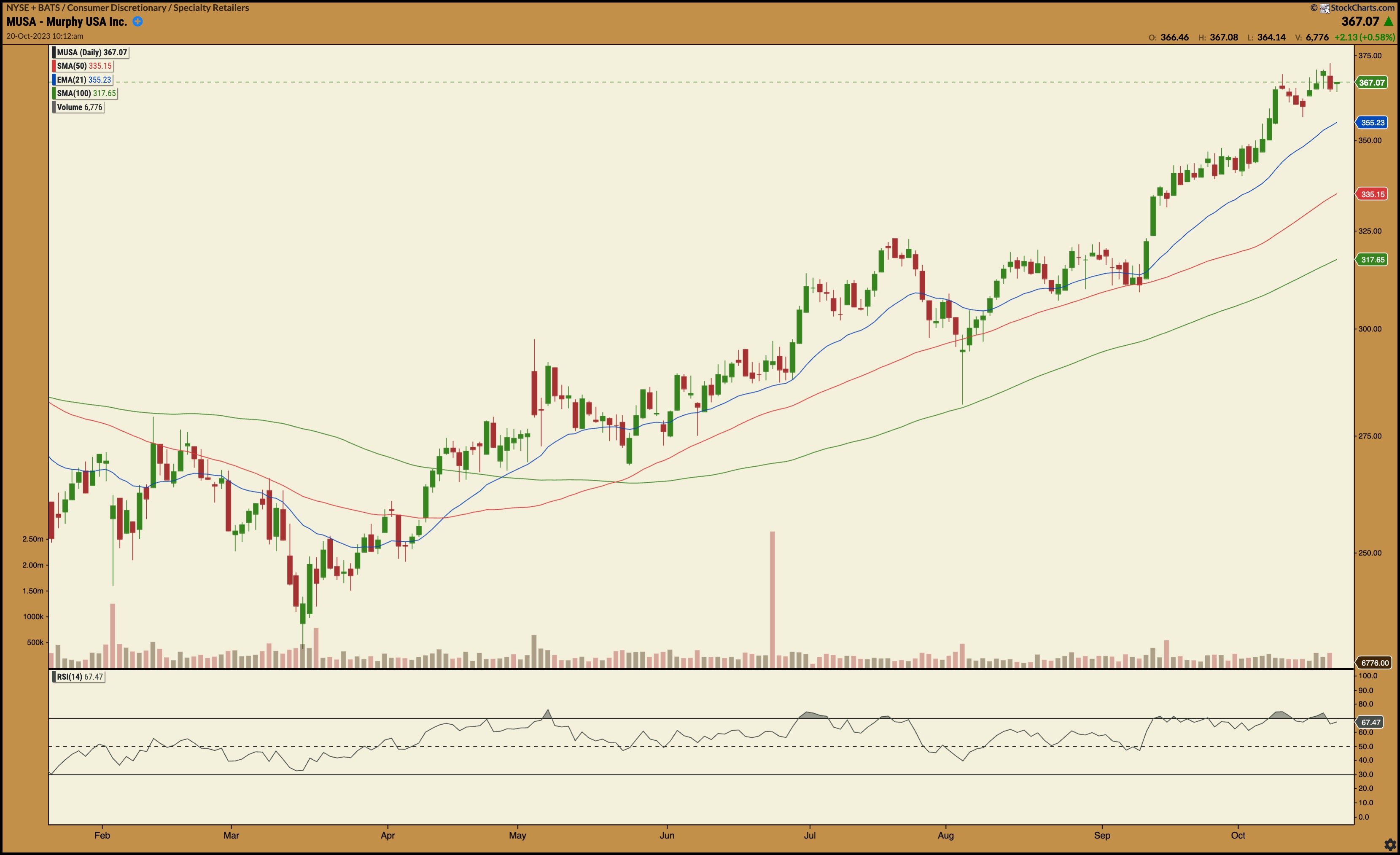 CHART 4: MURPHY USA KEEPS ON RISING. Keep an eye on the RSI (lower panel). A pullback could be an opportunity to accumulate some shares of MUSA. Chart source: StockChartsACP. For educational purposes.
When To Make the Trade
You're probably thinking, well, if these stocks keep hitting new highs, won't they hit the brakes soon? They might, but they could also keep rising, especially when the high-flying big tech stocks are going through a volatile rotation. So, before acting, keep the following points in mind:
Add charts of FANG, PGR, and MUSA (or any others filtered through your New All-Time Highs scan) to your StockCharts ChartLists.
Keep an eye on momentum using an indicator such as the relative strength index (RSI). As long as RSI keeps moving higher and isn't at an extremely overbought level, there's a greater chance of the stock continuing to move higher.
Looking at past price action in each of these stocks' charts, price pulls back and usually recovers, sometimes in a classic textbook way. Take advantage of those pullbacks and again watch the momentum. Add another confirming indicator, such as the moving average convergence/divergence (MACD), to the mix. 
Take a quick look at the fundamentals using the Sector Summary tool in StockCharts. Know key factors such as earnings reports, revenue growth, and key fundamental ratios. 
If everything lines up, the stock looks like it's recovering from a pullback, and you've identified an ideal entry point, know that anything can make a stock's price move against you. Know your exit points before hitting that buy button. 
---

---
Disclaimer: This blog is for educational purposes only and should not be construed as financial advice. The ideas and strategies should never be used without first assessing your own personal and financial situation, or without consulting a financial professional.