It's almost impossible to call market tops and market bottoms using basic technical analysis tools like price and volume. Don't get me wrong, that combination is my favorite during trend-following periods. But trying to spot bearish reversals is difficult when price action keeps riding higher and higher. The same is true in trying to spot bullish reversals when prices keep moving lower and lower. Maybe that seems unconventional to hard-core technicians, but I believe it's the reality. Too many folks say "when this line crosses that line, then this will happen". To me, that's following technical analysis and wearing blinders. Just my two cents.
I use technical price action to confirm what other signals are suggesting. We get plenty of signals on a regular basis – some short-term in nature, others long-term – if we're only willing to listen. While I've been bullish since June 2022, I do recognize short-term warning signals that tell us that risks of remaining long have increased substantially. In mid-July, I turned very cautious short-term and discussed those signals in a "Your Daily 5" episode that aired on July 19th. Let me pull up an S&P 500 chart, so you can see where U.S. equities stood when I fired this warning shot: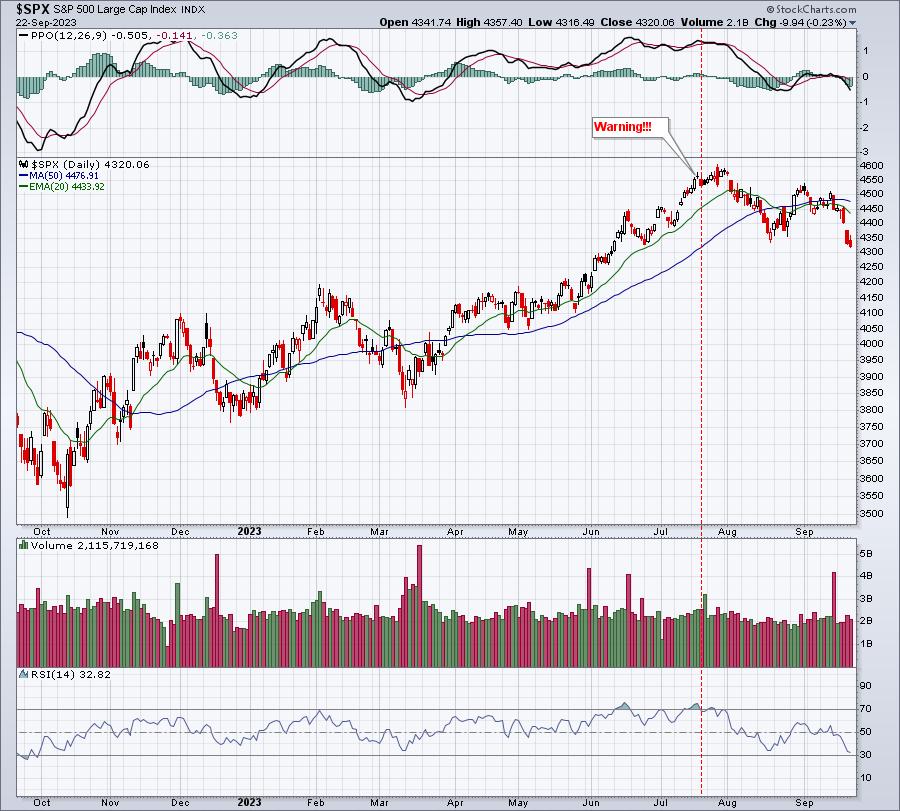 There were several reasons for the stock market bulls to hit quicksand. Tesla (TSLA), a Wall Street darling and a favorite stock of mine, suggested a possible 20% drop. That call aired the day of TSLA's top and TSLA fell closer to 30% in less than one month. These signals work and help us to manage risk! As I always say, they do NOT guarantee future price action, but they make us aware of increasing risk and that's how you invest more successfully. Since that July top, I've encouraged our EB members to tread very cautiously, whatever that means to each individual member. To some, it's being in cash. To others, it might simply mean to avoid leverage on the long side. But this cautious period is coming to an end.
If you want to see what was discussed on July 19th and why I felt the stock market was in short-term trouble, check out the Your Daily 5 recording on YouTube!
I absolutely LOVE when my signals take the opposite view of the masses. And now that everyone believes we're resuming the prior bear market, my signals are saying HOGWASH. Could we continue to proceed lower? Sure. There are never any guarantees with the stock market. But I see signs that suggest shorting is a VERY HIGH RISK strategy, with those risks growing every day. I'm discussing one major reason why in our FREE EB Digest newsletter that will be published early Monday morning, before the stock market opens. If you're not already an EB Digest subscriber, it's 100% free with no credit card required. Simply CLICK HERE and enter your name and email address. I'll discuss Reason #1 to turn bullish tomorrow morning. And I'll also focus on other reasons to be thinking bullish thoughts when I publish the EB Digest on Wednesday and Friday. Don't wait until it's too late. Check them out NOW!
Happy trading!
Tom